Divorce me, Husband!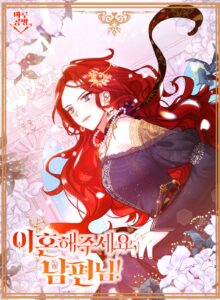 Chapters: 54
Status: Ongoing 
Genre:  Historical, Historical, Manhwa, Reincarnation, Reincarnation, Romance
Ratings: 3/5
Synopsis:
He was possessed by a supporting actor who was swept to death by treason committed by his husband. She's trying to get a divorce from her husband Claude to survive. Why is this guy so obsessed with me?! "We're getting divorced, Claude." "Aila, I'm not going to let you go, I'm not going to let you go." "Use as much money as you like. Just stay with me, Ayla." I don't need it all, and I want to live before I get involved in treason! So please…Divorce, please, husband.
Review
*MIGHT CONTAIN SPOILERS! READ IT AT YOUR OWN RISK! IF NOT, READ THE REVIEW ON MY IG PAGE.*
Not reading this again because I really did not like how complicated things have become with all the liars etc. it is a 4 because it still has a good storyline and maybe y'all might like it. I nearly wanted to drop it when I got to chapter 50 but I mean please tell me otherwise if you think I'm not right. 
Ps. Just read the spoilers and I have apparently either rated it too high or they were just mean and rated it super low (like no rating or 2 star rating). However, I do agree with the comments mentioned in the spoiler that this plot is pretty cliche and I can already tell how it is going to end and why the Duke/ML wanted revenge on the imperial people. Also, I also kind of know that FL was the one who contributed/leaked out info to the imperial family that the ML was rebelling. On this note, I think the emperor is poisoning her and wanting her to die because he just lost a pawn to the ML.
Characters
*Lazy*
Other Links
Novel
Social Media
You might also like:
~ THANK YOU ~
Follow @watashiwakurousagi for more!