Sushi Express @ Kovan (Heartland Mall)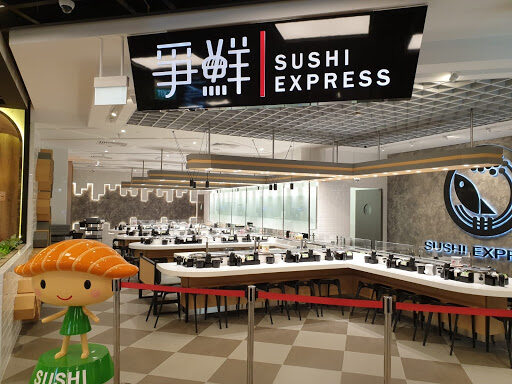 Ratings: 4/5
*Not that I am lazy but there are just too many locations.
---
Hey guys! Welcome to my blog!
Calling out to all sushi lovers! Though this place might not be a haven for all sushi lovers, it is somewhere you can patronise after school, whenever and wherever. It also caters to nearly every age group as it is affordable, easy and simple! This place is called Sushi Express.
Sushi Express is practically everywhere – North, East, West and Central of Singapore so it is really good convenience wise. I just went to their Heartland Mall outlet at Kovan which is apparently in the North at a really good time as it was relatively quiet there.
This sushi place is not your typical Sakae Sushi where you sit and order your own food. It is a restaurant, however I would say that it is more of an "all-you-can-eat" kind of place.  Today was my first time patronising Sushi Express, so I was clueless as to what I should do and the pricing of the food. After clarifying, we found that each plate of sushi/dessert (yes they do serve dessert on the conveyer belt too) was $1.50 each and it also came with a free, refillable cup of warm tea!
This is especially good for people like me who is a cheapo (Singaporean slang of someone who likes cheap stuff) and also love to try new things as I will try all the different dishes which capture my eyes. Once I have tried all of them, I will stop eating so it is like a coping mechanism for me to eat and spend just enough on sushi.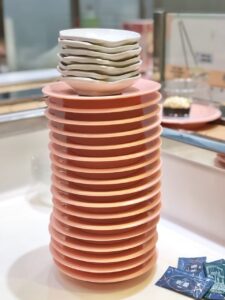 Now to introduce the food served at the restaurant:
There is a huge variety of sushi there, however, I would say that it is not as wide as the ones you will find in a typical Japanese restaurant. Nonetheless, you can still find new types of sushi there!
Credits to 520 Sushi
First up! There are typical sushis called Nigiri and Gunkan such as the Tamagotaki (egg sushi shown above), and the Cheese Masago ("Mentai" sushi in the very first picture on the plate with the chopsticks). By the way, I would really like to recommend you to try the Mentai sushi. To me, it looks like a deceivingly simple dish because this sushi gives a sweet, flavourful and brings a "spark to the brain" kind of taste, making it well-balanced. Also, the fish sushis taste great so I would recommend you to try it too!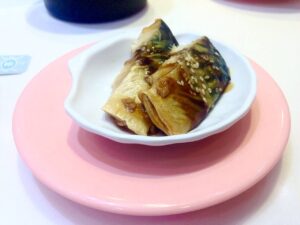 Next will be the side dishes.
As you can see in the picture, the food is served on small white plates then on the pink plates. They are really good if you are on a diet as there are no carbohydrates involve!
Lastly, there are the desserts and their other food like their Takopachi.
I did not try their desserts as I felt they were quite typical. They had cream puff, pudding/jelly, brownies and their newly added burnt cheesecake (I believe)! They also had Maki, Takopachi and their new addition which I can't remember the name and also cannot find it online (cries).
But yes, for the Maki, I tried the Fried Tofu Pouch and the only other Maki I saw was the Cucumber Roll. And lastly, the Takopachi has octopus in it. Usually, I eat the Takopachi which has ham inside so when I tasted octopus inside, it felt a little bit weird.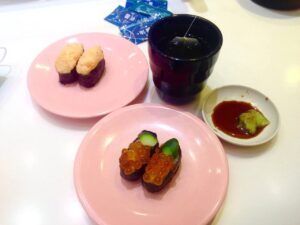 So in conclusion, it was a really great place to patronise and possible one of the best places to tickle your tastebuds. However, I felt that some of the food like the desserts could were quite basic and some which I was expecting to be more wowed by tasted quite normal. Moreover, if you would like a wider variety of Japanese food then this is probably not the place for you.
Somethings to take note of:
When I first went, I did not see their menu so I was unaware of what was available there. So I would recommend you to check out their menu before going there.
Secondly, not all the food might be available at the restaurant so please do not be disappointed or too disappointed when they do not have it anymore. Just go early the next time, they might have it there! Remember, the early bird catches the worm!
Likewise, there might be food which are not on their online menu. They might have new items like the sushi on the lowest plate in the above picture and the Takopachi. So I would say that what is on their menu are the basic food they serve.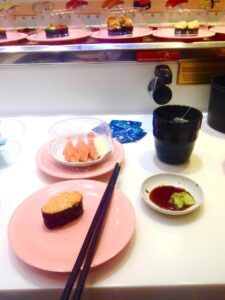 To end off, despite the downsides mentioned about Sushi Express, I will still recommend y'all to go down and have a go. If you have tried it before, please comment in the comments section below about how you felt about the food there. If you have not, please do try it and come back to comment below. There really is a plethora of food you should try!
Thank you for reading and remember to follow our socials!
---
 We might have tried more food!  
Click @yz_foodntravelog now to find out more!
Credits of featured picture to Sushi Express