Pizza Hut CNY 2021
Rating: 3/5
---
Hello guys! Welcome to my blog!
With the Lunar New Year/ Chinese New Year (CNY) approaching, there are numerous deals popping up from the different shops! For my family, Pizza Hut is a must try as they always come out with new flavours ever CNY!
Usually for Pizza Hut, my family tends to take out as the nearest and most convenient store to go to is not a restaurant but a pick up outlet. So, for this meal, we ordered 2 large pizzas, 2 regular pizzas and 2 sides.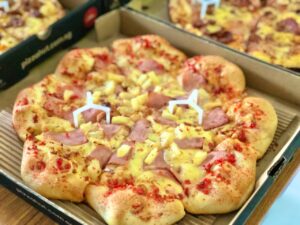 The first pizza here is none other than the CNY limited edition pizza – Hawaiian Blossom.
First from its name, it already sounds very cute! Hawaiian is the flavour of the pizza and Blossom is the shape of it! This pizza is not spicy and has a stuffed cheese crust so I'm sure cheese lovers will love this pizza! Personally, I felt that this pizza tastes like normal Hawaiian (cheese, ham, pineapples and tomato sauce) but it has cheese in its crust which makes it more filling and enjoyable to eat. You might never know if you might get a cheese pull!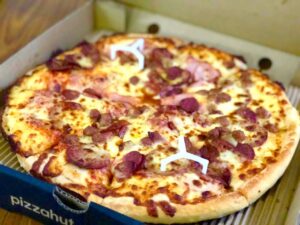 Next one is the Meat Galore Large Pizza.
This flavour and Hawaiian are a favourite for my family. Meat Galore has 4 types of meat in there – the chicken ham, pepperoni, cabanossi sausages and meatballs. I personally like eating this pizza with the chilli flakes as it can start to taste blend when you eat it too many times. It is also pretty filling but I do not like it when the pizza has too much meat. So sometimes I will not eat Meat Galore when I don't feel like it. (This might be your favourite if you are a meat lover!)
Next up! We have another CNY limited edition pizza which is called the Mala Blossom.
Now this pizza is a little bit more interesting. Its toppings are tomato, chicken and Pizza Hut's in-house Mala sauce, with cheese stuffed crust and it looks in a shape of a flower as well, resembling the "blossom". For this pizza, you can choose 4 level of spiciness, and the one we went with is the level 3 Mala. As you know from my previous posts, I am not good with spicy food. However, the Mala Blossom pizza looked so good, so I need to get a taste of it. The Mala sauce was thick and spicy, and I felt that level 3 was quite spicy for me. So I believe that if I ate the level 1 Mala Pizza, I might be able to survive.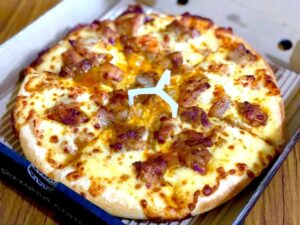 The last pizza is the Curry Chicken!
This pizza is another favourite for my family but not as much as the Hawaiian and Meat Galore pizzas. This Curry Chicken is spicy, filled with chicken chunk, and instead of the normal tomato sauce, it is a curry sauce. The curry sauce was not as thick as the Mala or the tomato sauce and it has a spicy kick (like all the other spicy food to me) to it as well. It also had onions and diced tomatoes which gives the pizza an authentic flavour of rich spices.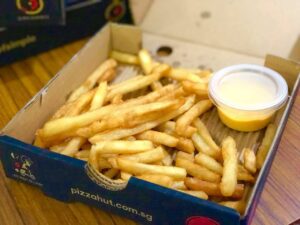 And lastly, it is the sides. This first side is the Cheesy Fries where the cheese has been put in this transparent container to make sure that the fries do not turn soggy. I like Pizza Hut fries the most as it has the real potato taste unlike those in McDonalds. It is also crispy and less oily which make it really perfect. The second side is the 4pc Buffalo Wings which I did not eat and and did not take pictures of.
All in all, the food was really good and I have eaten this set many times so it might have gotten a bit bland. But if you have yet to try any of the pizzas, go down and eat it before they are gone!
Also, don't forget to follow the socials below and support us by following us on this food journey!
Happy eating and happy reading! Remember to follow our socials!
---
 We might have tried more food!  
Click @yz_foodntravelog now to find out more!